December 14th, 2019, Olympic Peninsula Steam proudly sponsors historical and spirited passtimes to help keep you warm through winter. Join us for the festivities!
Big Brass Yule Ball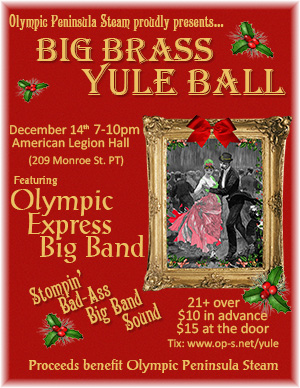 On December 14, 2019 we're looking to steam up the holidays with music in the dark of the year. Whether you rock gears and goggles, bustle or bowler, this is holiday opportunity to come out and kick it old school. Olympic Express Big Band brings sassy, brassy horns and rhythm for an absinth-infused evening of dancing.
The Brass Screw Confederacy and Olympic Peninsula Steam invite you to join us the American Legion Hall where the halls are decked, the hosts are jolly, and the fruit cake will keep you toasty all night long. Come as you are - Victorian, Steampunk, fancy dress, blue jeans. It's the spirit, the season and the swing that matter!
Full details:
When: Saturday, December 14, 7-10pm
Where: American Legion Hall, 209 Monroe St, PT directions
Who: 21+ - Tip o' the hat to Steampunks and Victorian folk
- Fancy dress never required or expected
What: Dancing, live band, festivities, and Father Christmas
How: $10 in advance $15 with ID at the door - Space limited

What to expect
Stomping big band sounds with Olympic Express Big Band
The coolest Father Christmas you ever met
- selling Nice Passes at seasonable discounts
Mistletoe, just in case that certain someone is around...
Cash bar awash with holiday spirits
...but Beware the Krampus!
Victorian Open Parlor
Also on Saturday December 14th, tour beautifully decorated 19th Century buildings and homes with historically costumed docents, seasonal music, and holiday treats. Tickets $15/person.
Tours run 1-4pm.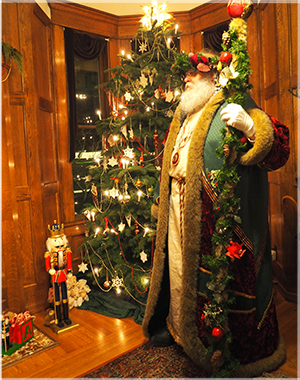 Ticketed guests are invited to tour a number of Port Townsend's beautiful homes decorated in Victorian holiday splendor. Seasonal entertainments including live music greet you as you catch a glimpse of holiday spirits of Christmas past. Tickets strongly recommended as this event usually sells out. Walk-ups can check start at the Old Consulate Inn (313 Walker St) to see if space remains available on Dec 14th.
Full details:
When: Saturday, December 14, 1-4pm
Where: Start at the Old Consulate Inn, 313 Walker St, PT directions
Who: All ages - some historical venues are not ADA accessible
What: Victorian parlors with seasonal treats and festive entertainments
How: $15 in advance strongly recommended

Venue detals coming soon!