Olympic Peninsula Steam proudly sponsors historical and spirited passtimes to help keep you warm through winter. Join us for the festivities!
Big Brass Yule Ball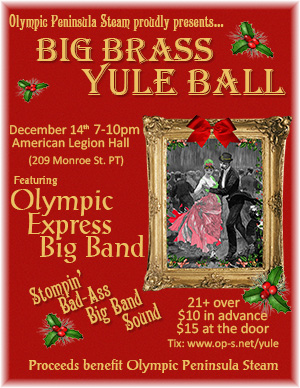 On December 14, 2019 we're looking to steam up the holidays with music in the dark of the year. Whether you rock gears and goggles, bustle or bowler, this is holiday opportunity to come out and kick it old school. Olympic Express Big Band brings sassy, brassy horns and rhythm for an absinth-infused evening of dancing.
The Brass Screw Confederacy and Olympic Peninsula Steam invite you to join us the American Legion Hall where the halls are decked, the hosts are jolly, and the fruit cake will keep you toasty all night long. Come as you are - Victorian, Steampunk, fancy dress, blue jeans. It's the spirit, the season and the swing that matter!
Full details:
When: Saturday, December 14, 7-10pm
Where: American Legion Hall, 209 Monroe St, PT directions
Who: 21+ - Tip o' the hat to Steampunks and Victorian folk
- Fancy dress never required or expected
What: Dancing, live band, festivities, and Father Christmas
How: $10 in advance $15 with ID at the door - Space limited

Who Is OPS?
Olympic Peninsula Steam was founded to educate about the amazing history of our region. That history is a rich component of life here. If offers a unique opportunity to celebrate, learn and grow. Along the way we've come to realize we're about community and contributing to our home. OPS has helped support and sponsor a host of regional non-profits and organizations. Olympic Peninsula Steam sponsors a series of events through the year.
Olympic Peninsula Steam provides educational programming and community events throughout the year. Our primary events include:
Annual Events
Victorian Festival - Come celebrate Port Townsend's extraordinarily preserved Victorian homes and buildings, enjoy lectures and our exhibition hall, then dance the night away at our Victorian Ball. Last weekend in March. (www.VictorianFestival.org)
The Brass Screw Confederacy: A Steampunk Hootenanny - A 3-day adventure for young and old celebrating the history or future that almost was. June annually. (www.brassscrew.org)
Victorian Yuletide Festival - a Victorian-style parlor to put in a good word with Father Christmas. Savor tasty snacks and help deck the halls performers sing, play and recite all your holiday favorites. December.
OPS News!
On November 17th, 2013, Olympic Pensinsula Steam was recognized as a public charity giving the organization non-profit/exempt - AKA 501 (C) (3) - status by the IRS.