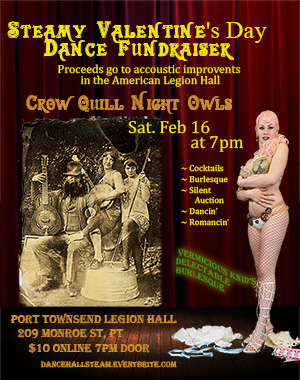 Steamy Valentines Vintage Dance Hall Fundraiser to support the Port Townsend American Legion Hall. Help us raise $2000 to upgrade the acoustics at one of our favorite venues. Catch the Crow Quill Night Owls and get steamy with a little cupcake burlesque show.
What: Dancin', romancin' and tomfoolery
Where: American Legion Hall at 209 Monroe St, Port Townsend
When: February 16 at 7pm
Price: $10 - All proceeds go to the Legion for acoustic upgrades
Who: Everybody!!! (21 and over - sorry)

Can't attend but want to help out? Donate here:
Who Is OPS?
Olympic Peninsula Steam was founded to educate about the amazing history of our region. That history is a rich component of life here. If offers a unique opportunity to celebrate, learn and grow. Along the way we've come to realize we're about community and contributing to our home. OPS has helped support and sponsor a host of regional non-profits and organizations. Olympic Peninsula Steam sponsors a series of events through the year.
Olympic Peninsula Steam provides educational programming and community events throughout the year. Our primary events include:
Annual Events
Victorian Festival - Come celebrate Port Townsend's extraordinarily preserved Victorian homes and buildings, enjoy lectures and our exhibition hall, then dance the night away at our Victorian Ball. Last weekend in March. (www.VictorianFestival.org)
The Brass Screw Confederacy: A Steampunk Hootenanny - A 3-day adventure for young and old celebrating the history or future that almost was. First weekend in June. (www.brass-screw.org)
Victorian Yuletide Festival - a Victorian-style parlor to put in a good word with Father Christmas. Savor tasty snacks and help deck the halls performers sing, play and recite all your holiday favorites. December.
OPS News!
On November 17th, 2013, Olympic Pensinsula Steam was recognized as a public charity giving the organization non-profit/exempt - AKA 501 (C) (3) - status by the IRS.