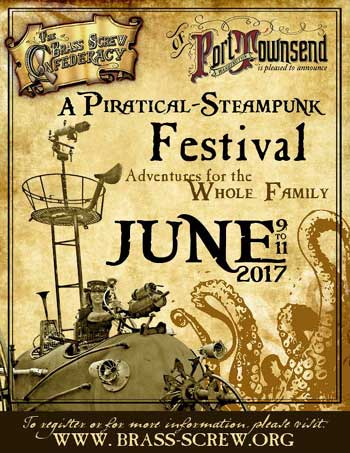 On June 9-11, 2017 Airships and blunderbusses, submarines and privateers - all in search of elusive mermaids and pirate gold. Celebrating Port Townsend's designation as one of three Victorian Seaport in the US, come decked out in your piratical steampunk finery for another amazing year...."
Olympic Peninsula Steam was founded to educate about the amazing history of our region. That history is a rich component of life here. If offers a unique opportunity to celebrate, learn and grow. Olympic Peninsula Steam sponsors a series of events through the year.
Olympic Peninsula Steam provides educational programming and community events throughout the year. Our primary events include:
Victorian Festival - Come celebrate Port Townsend's extraordinarily preserved Victorian homes and buildings, enjoy lectures and our exhibition hall, then dance the night away at our Victorian Ball. Last weekend in March. (www.VictorianFestival.org)
The Brass Screw Confederacy: A Steampunk Hootenanny - A 3-day adventure for young and old celebrating the history or future that almost was. First weekend in June. (www.brass-screw.org)
Victorian Yuletide Festival - a Victorian-style parlor to put in a good word with Father Christmas. Savor tasty snacks and help deck the halls performers sing, play and recite all your holiday favorites. December.
What to expect
Stomping big band sounds with Olympic Express Big Band
The coolest Father Christmas you ever met
- selling Nice Passes at seasonable discounts
Mistletoe, just in case that certain someone is around...
Cash bar awash with holiday spirits
...but Beware the Krampus!
But wait! There's more...
During the weekend of December 17th Port Townsend also hosts the Holiday Homes Tour. See the Victorian Yule Festival website for details on other historical holiday happenings.
OPS News!
On November 17th, 2013, Olympic Pensinsula Steam was recognized as a public charity giving the organization non-profit/exempt - AKA 501 (C) (3) - status by the IRS.